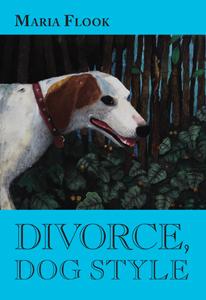 DIVORCE, DOG STYLE explores fractured modern relationships with comic force and unblinking realism in "unflinching prose, powered by love and longing that moves through this grim territory producing eerily beautiful impressions." (Amy Hempel). Like her other novels, "sexual tensions compound with sexual secrets until they burst open." (Kirkus) Flook "is drawn to stories about people who have boundary issues. She has the ability to capture the thrill of flouting taboos and also the compassion to reserve judgment about people." (Booklist.)
The novel takes place in one day. A beleaguered womanizer, Grafton, attempts to win back an old girlfriend, Caroline, whose son has recently died in a wind turbine accident. Yet there are other men and ex-lovers in line before him, including a veterinarian who is coming to her house to put down Caroline's dog with the "two-injection method." Flook's iconic blend of black comedy, biting wisdom, and characteristic lyricism explores the raw sanctuaries where women and men connect and disconnect.

…
"Flook is impish and inventive. She finds humor in odd places, yet she is never cruel or arbitrary toward her characters. . .she makes it clear that she likes them."
–The Washington Post

"A potent, richly realized novel. . .revealing hearts tormented by regret and desire. Her style is spare, subtle, ethereal and erotic."
–New York Times Book Review

"It's as if Martin Amis has been reborn as Anne Tyler. . .The novel delights us with touching, deeply felt comedy."
-Dan Cryer, New York Newsday

"Maria Flook's debut as a novelist reminds me of Knife in the Water, Roman Polanski's first film. . .both are kept on the edge by an unremitting, underlying erotic current.
-Stuart Dybek

"Flook's authority and poise as a writer lends incidents a sense of inevitability: they come to seem like the simple workings out of her characters' fates. Ms. Flook has written a strange, original and full absorbing novel."
-Michiko Kakutani, The New York Times
"Ms. Flook is clearly an accomplished stylist. Her writing never succumbs to cliché and there is a metaphorical opulence to her prose."
–New York Times Book Review

"Maria Flook has established herself as a writer with an astonishing vision—an artist who refuses to blink. The language is hard and sharp as the lives the stories reveal, and yet the book is rooted in elegance and surprising humor. . .These stories unveil new truths with an unerring, compassionate voice."
–Ploughshares